I am interested in buying old pipes for restoration.
A single old pipe that was handed down from your grandfather, or a collection of old pipes. Any old used pipe.
I restore these old pipes so that they can be given a new lease of life, to be enjoyed once again.
You can contact me with the details of pipes that you wish to sell (email me with photos) and in most cases I can give you an approximate estimate of the value immediately. If the pipe(s) have a maker's name on them, then be sure to mention that.
If you then decide to send the pipes I can then give you an exact valuation.
You will be under no obligation to accept the offer that I make, and if you do not then I will send them back to you by a tracked, secure and insured Royal Mail service. The return postage cost will be at your expense. (That is likely to be £4.68 for Royal Mail 1st class to be signed for). In such cases I would send you an invoice prior to despatch.
Photos and information can be sent to me by email to:
pipemanrod@yahoo.com
Always contact me first by email (with photos) before sending any pipes

I will reply with an approximate valuation

You then send the pipe(s)

I will then contact you with an exact valuation and an offer

If you accept my offer then you can email me details so that I can make an immediate bank transfer to you.
Bank sort code

Name on the account

Account number
PLEASE DO NOT SEND ANY PIPES WITHOUT CONTACTING ME FIRST
Pipes can be mailed to:
Rod Neep
Old Albion House
Pine Tree Way
Viney Hill
Lydney
Gloucestershire
GL15 4NT
My name is Rod Neep
and my phone number is 07767-836575
Email: pipemanrod@yahoo.com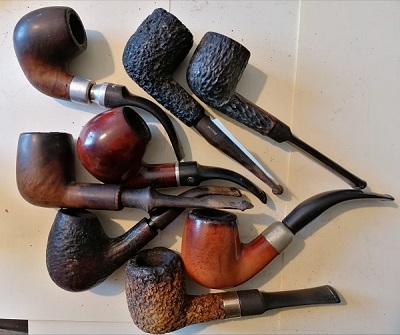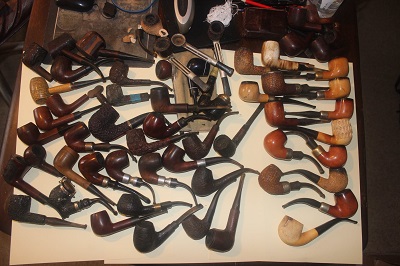 Above: A large batch of pipes from one single collection that I purchased from a grandson. About half of them were rubbish and unrestorable and they had to be consigned to the bin. But I still bought the whole batch. Some required a lot of restoration work, and some less so.
Many old pipes come to me in a poor state like the one on the left in the photo above. It is choked up with old carbon deposits from years of use, and generally very grubby. That is no problem at all. Shown beside it is an identical pipe that has been restored. OK, it was a lot of work, but it was worth it.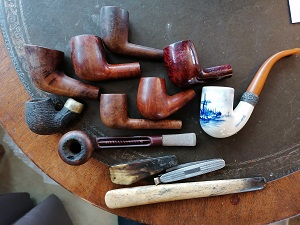 Another batch of pipes. These came from an auction house. (The photo was taken after I had removed the stems to be soaked in de-oxidising agent to clean them). One of them (the shiny varnished one top right) is the pipe that you see restored above. The gem amongst them was..... (no not the white ceramic pipe from Holland).... the black one on the left.