Antique Meerschaum Eagle Claw Pipe
Ref: P0003
A rare and very old pipe hand crafted from block meerschaum to a traditional Eagle Claw design.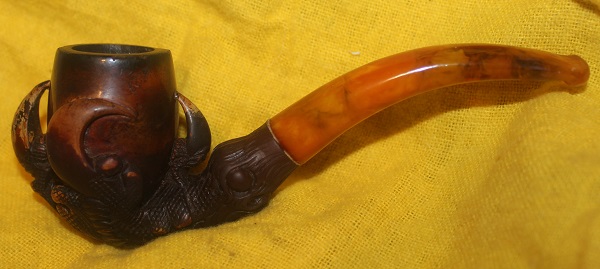 I think that the dark brown finish on the claws and base of this pipe may be mostly original, although of course it does show some natural "amber" colouring common to well used meerschaum pipes. The dark brown has worn in places where it is naturally gripped in the hand.
The exterior of the pipe has been cleaned, but I have made no attempt to remove the brown stain as that is all a part of its original character. The inside of the chamber has been reamed and cleaned, but still leaving a thin deposit of carbon.
The stem of the pipe is made from "amberoid" which is an old way of representing amber - it is believed to be a sort of resin impregnated with real amber. (Before more modern plastics were invented). The stem has a screw fitting into the bowl. (When the stem is fully screwed into the bowl it has had a thin shim of card inserted between the two to maintain correct alignment. (This was oviously done sometime in its past).
The pipe comes in its original lined case, which has a leather exterior and a good working clasp.