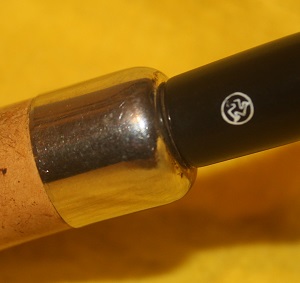 Three legged Manx symbol on the stem.
MANXMAN MEERSCHAUM
By Laxey Pipe Ltd
Ref: P0007
A lovely old meerschaum with an apple shaped bowl that is starting to colour very nicely. With more use it will begin to turn an even darker shade of amber.

An estate pipe from the collection of an old gentleman. It has been restored to give it a new lease of life so that it can be enjoyed once again. The pipe has been reamed out to remove the old thick carbon deposits in the chamber, and the internal airways cleaned with isopropyl alcohol to remove the traces of tar. The bowl and stem have been thoroughly cleaned and polished. There is a small "bite mark" on the underside of the mouthpiece.
£50.00 plus postage
SOLD
Postage Royal Mail tracked
Dimensions:

I have several more Manxman meerschaum pipes from the same estate.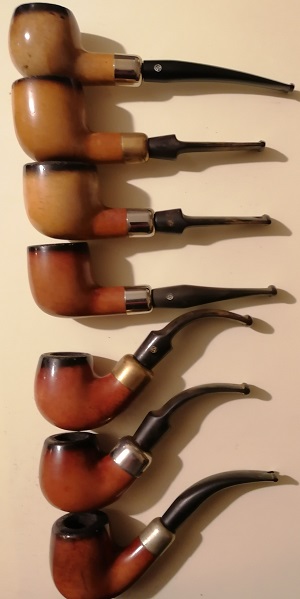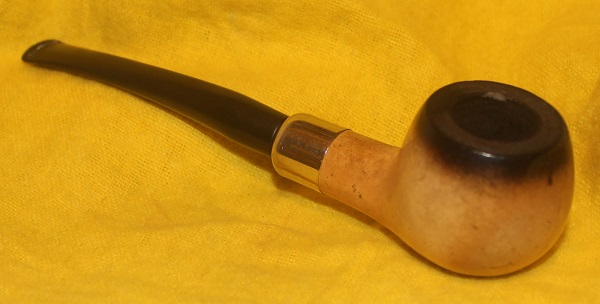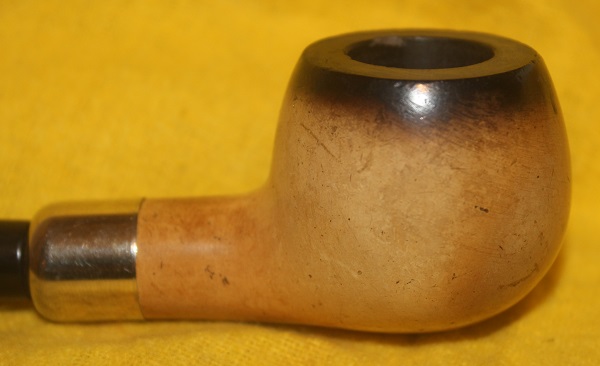 Laxey Pipe Ltd. was situated in an historical 19th century four-storey Man stone building at The Quay, Old Laxey, Isle of Man, which thankfully has been preserved. The company specialised in the production of Meerschaum Pipes using the Meerschaum mined by the Tanganyika Meerschaum Corporation in the Amboseli basin in Tanganyika (since 1964 part of the United Republic of Tanzania). Please note: you may often find names like "Manx Pipes Ltd.", "Man Pipe Co." and others, but there is no indication of another Isle of Man pipe producer other than Laxey Pipe Ltd. at any time!
Laxey Pipe Ltd. manufactured the meer bowls for Peterson, Barling, Nørding and others from the later 1960's until 2001. Man Pipe, for example, was a brand distributed by Comoy's. The bowls usually showed no nomenclature indicating the orderer. "Genuine Block Meerschaum" was engraved frequently, but not always. Often, just the stems were different, while bowls were the same.
Supply of meer from East Africa run out (Kenya / Tanzania exhausted, Somalia inaccessible), and thus the last Laxey meers were supplied to trade in May, 2001. Laxey Pipe Ltd. tried to survive continuing with briar pipes – mainly in the Danish style -, but without success. It closed down business in July, 2002.