Price just £5.00
Plus postage Royal Mail 1st Class
Email : pipemanrod@yahoo.com
Payment is by Paypal
Briar Billiard Pipe
No maker's mark or name
Ref: P0019
A lovely old pipe restored to give it a new lease of life so that it can be enjoyed once more.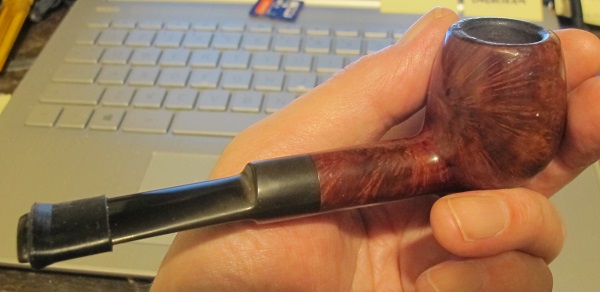 This was one of the pipes that was in a batch from an old gentleman's estate that I obtained. It was too nice a pipe just to throw into the "rejects" box, so I have given it the treatment it deserves, even though it is not "valuable". I am offering it for sale very cheaply. (If you buy this pipe at the same time as any other pipe that I am offering for sale, then I will refund the postage charge).
There are two "issues"
It has no maker's name or mark (so it was probably originally sold as a "second")

The upper tooth position on the mouthpiece is rather thin. So thin that it is actually flexible. Just in one small spot, if it were to be clenched in the teeth. It is hardly noticeable, but I can see it and feel it. The simple answer to that is that I have fitted a rubber "softie" mouthpiece cover rather than go the the time and expense of making a new stem.
The pipe bowl has been reamed out to remove excess carbon deposits, and the bowl has been cleaned. The airways have been thoroughly cleaned with isopropyl alcohol to remove old tar deposits. The stem has been cleaned and polished.
Owning and using this lovely old pipe will be like giving a new home to a treasured teddy bear.