£60.00 plus postage
Items are posted using Royal Mail first class Tracked
Payment by Paypal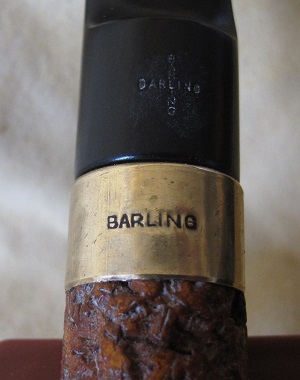 BARLING RUSTICATED MEERSCHAUM PIPE
Ref: P0027
A large bowled pipe with a very "rocky" rustication. Even the top rim of the bowl is rusticated too. There's plenty of grip on this bowl. The band is either non-hallmarked silver or nickel silver. (It actually looks like real silver). The band bears the stamped marks "Barling" and also "EB. W,B,". "Barling" is also stamped in the "cross style" onto the top of the saddle on the stem. The bowl is a rich amber colour, which is sought after by collectors.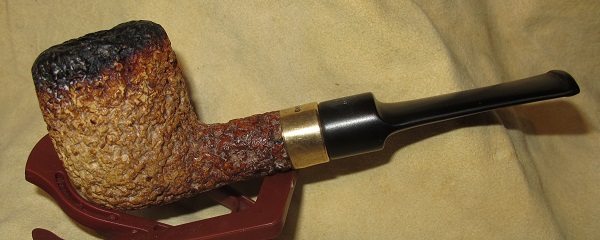 This meerschaum bowl was made by the Laxey Pipe Co. Ltd. in the Isle of Man, who made all of the meerschaum bowls for Peterson, Barling, Nording, and others. Laxey closed down their Isle of Man business after the supply of Tanzanian (Amboseli) meerschaum ran out in the year 2000, therefore this pipe was certainly made before this date, and probably after 1970. During this period the Barling trade name was owned by Imperial Tobacco who produced the pipes at the Ogden's factory in Loverpool. However, after its closure the Barling pipes were actually produced by Nording.
So here we have a Barling pipe that was produced for Imperial Tobacco by Nording, who in turn sourced their meerschaum bowls from the Laxey Pipe Co. Ltd. in the Isle of Man.
Many of their meerschaum pipes were artificially darkened by a high heat process known as calcination to make them look old and well smoked. The blackened upper surface of this bowl is originally how the pipe was manufactured.
The bowl has been reamed to remove the old build up of carbon, and has also been thoroughly cleaned, re-waxed with beeswax, and polished. The stem has been cleaned and highly polished. All of the airways have been cleaned out using isopropyl alcohol to remove the old traces of tar and to sterilise the pipe.