£15.00 plus postage
Items are posted using Royal Mail first class.
Payment by Paypal in their secure site
No hassle returns
If you purchase more than one pipe at the same time then I would be happy to refund the postage on one of them.
Duncan Langdale
Rusticated Bent Pipe
Model 177
Ref: P0053
A delightful pipe. Rusticated, with a beautiful "dark ruby" colouring to the briar. It is not a particularly high value pipe, but it comes from a very good heritage of pipe makers, and it is a little gem! For this reason alone I have really enjoyed renovating this pipe so that it can be enjoyed once again.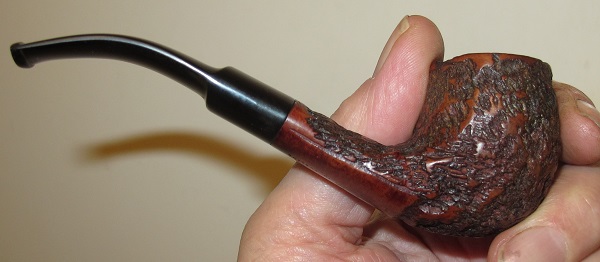 The bowl has been thoroughly cleaned, re-waxed and polished. The chamber has been reamed to remove the old build up of carbon. The stem has been repaired, cleaned and polished. All of the airways have been cleaned out using isopropyl alcohol to remove the old traces of tar, and to sterilise it.