£60.00 plus postage
Items are posted using Royal Mail first class.
Payment by Paypal in their secure site
No hassle returns
If you purchase more than one pipe at the same time then I would be happy to refund the postage on one of them.
Meerschaum Tomahawk Pipe
Ref: P0056
The "tomahawk" style of pipe is pretty rare, but to find one made of meerschaum is like finding hen's teeth.
This pipe bears markings on the silver band "EP" in a diamond, and "BGT" (?) in gothic letters in the style of a hallmark. The bowl, however is typical of those made by the Laxey Pipe Co. Ltd. on the Isle of Man. who made bowls not only for themselves, but all of the meerschaum bowls for Peterson, Nording, Barling, and many more.
The bowl has been thoroughly cleaned, re-waxed and polished. The chamber has been reamed to remove the old build up of carbon. The stem has been cleaned and polished. All of the airways have been cleaned out using isopropyl alcohol to remove the old traces of tar, and to sterilise it.
This pipe is in excellent condition, with a deep rich amber coloured bowl. The bowl has a rugged rustication. Another notable feature of the pipe is a mouthpiece which has two air holes rather than a slot.
Quite a deep generously sized bowl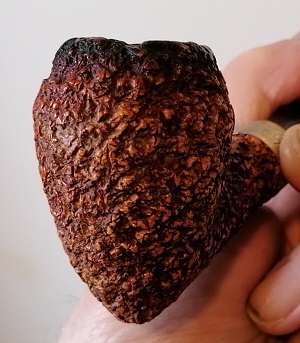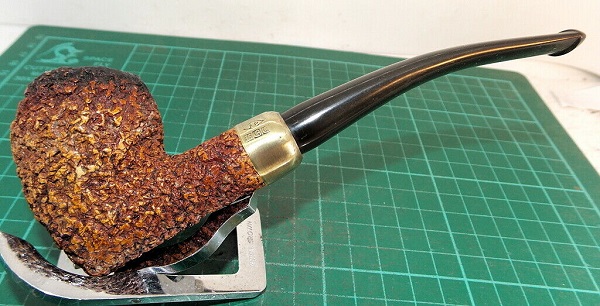 There is a very small partial split in the silver band as can be seen here. It is nothing to be concerned about.
Above The maker's marks "EP" in a diamond and "BGT"? in gothic script in shields.

Left: An unusual "two hole" mouthpiece rather than a slot.