£25.00 plus postage
(Postage Royal Mail 1st Class)
SOLD
.
No hassle returns
Captain Kidd
Rum Matured
P0044
This pipe is new and unused. It arrived here with a batch of estate pipes.
All I have had to do is polish the stem to remove some marks left by handling. The inside of the bowl and airways are completely clean. The stem is fitted with a metal "stinger". (Moisture trap).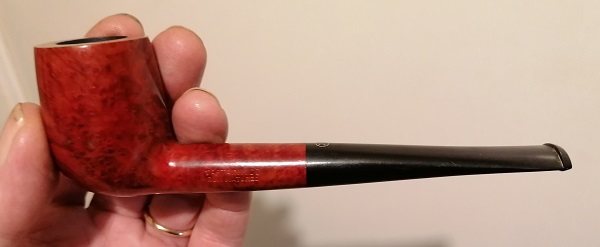 I have not managed to find much information about this pipe at all. It is marked "Captain Kidd - Rum Matured", and "Made in England - 662" clearly stamped on the shank. There is also a "CK" inside a circle mark on the top of the stem
"Captain Kidd" used to be a brand name of A Frankau & Co, London, (up until 1920) and then taken over by the Oppenheimer Pipe Group. There are also some references to the brand name being owned by BBB Pipes.

It is a gorgeous pipe, in what one would call a traditional "Liverpool" shape.