£60.00 plus postage
Items are posted using Royal Mail first class.
Payment by Paypal
No hassle returns
Large
Manxman Meerschaum Pipe
Ref: P0047
A very impressive large meerschaum pipe made by Laxey in the Isle of Man. Gorgeous sought after amber coloured meerschaum. Despite having a large looking bowl the chamber is actually a normal size. This one will smoke ultra cool.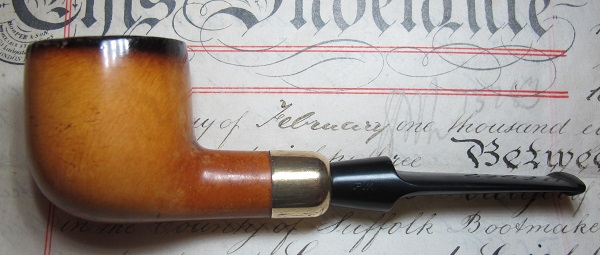 The bowl has some extremely minor scratches from use over the years, but is a high gloss. It is at least 20 years old, as Laxey discontinued making meerschaum pipes in the year 2000 when the supply of Amboseli meerschaum ran out.
The bowl has been thoroughly cleaned, re-waxed and polished. The chamber has been reamed to remove the old build up of carbon. The stem has been cleaned and polished. All of the airways have been cleaned out using isopropyl alcohol to remove the old traces of tar and to sterilise it.